How do I get back to the video? All I see are quiz questions.
In the video + quiz activities, the video is on the first page of the quiz, so if you see the quiz questions, but have not watched (or finished watching) the video, simply scroll to the bottom of the page and click the "previous" button to get back to the video player.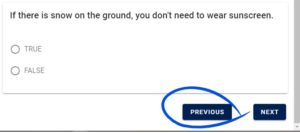 ---
The Video Player is not working, what now?
If the video player used to work but has stopped working, it's possible that something is stuck in the temporary files that the web browser (the software used to view websites) uses that is causing problems. Here are some things you can try:
Force-reload the page so everything is reloaded (Ctrl+Shift+R or Ctrl+F5 on most PCs Command+Shift+R on the Mac)
Try a private browsing window. Chrome calls this "Incognito Mode", Edge calls this "InPrivate", and FireFox calls this "Private".
Try a different web browser. Common web browsers are: Edge (comes with Windows 10); Safari (comes with Mac OS and iOS devices); Chrome; and Firefox. LDP should work on any modern web browser, but we mainly develop it with Chrome and Firefox. 

Clear your browser cache (if you're using a computer you can try

these instructions

) Note: clearing cookies will likely mean you will need to log in to all websites again, so be sure to know your LDP password.
---
I'm stuck on an activity or my account was reset before I finished LDP.
By default, Light Duty Pathway only shows one course and one activity at a time. If your LDP experience was reset before you completed all the days or you are having trouble accessing a specific bit of content, you can show all courses in order to pick up where you left off or move ahead.
If the side menu is not open, click the menu icon (3 horizontal lines stack on top of each other)
Click the "Show All Courses" Switch (you may need to scroll down to see it). This shows all of the LDP courses that have been assigned to you.
Click the "Start" button on the LDP Day you desire to access. Usually, this will be the LDP Day that follows the last day you completed on SAP.
Now you can start the first activity of the course
The LDP schedule is largely the same as SAP, so the transition should be seamless.